MIAO CREATES CONTEMPORARY JEWELS, ONE BY ONE, IN A HANDICRAFT WAY, USING TRADITIONAL AND CONTEMPORARY TECHNIQUES IN JEWELLERY AND FIRE ENAMELLING
MIAO is ...

passion for fire enamelling, experimentation with colours, silver and gold coated metals. These pieces are born from the chemistry between heart and mind. I get inspiration from organic structures, its colours, contrasts and composition.

From 2002, I design and create artisanal and timeless jewells.
We like ...

that our pieces can reach a great variety of people. Our workshop is located in a unique space in the centre of Seville.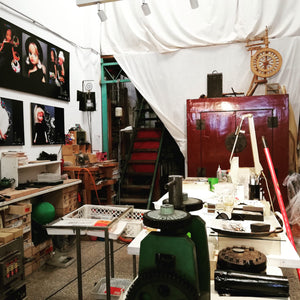 Talking about our job...

we care about the quality and origin of our raw materials and the tools we use, trying to always work with local providers near us. We try to be respectful with the environment
MIAO invites you to be part of a responsible consumption in which you know who makes your piece and where it is created